QUALITY OF SLEEP: EVERY BIT AS IMPORTANT AS DIET!
One issue that massively impacts our disease risk, and our mood and energy all day long, is talked about far too little. I have been preoccupied with SLEEP since I was 10 years old, when I had insomnia to the point that some nights I never slept at all. I had mild to severe insomnia till I was 35! I feel like I lost 25 years of my life to being exhausted. It's a thing of the past, thankfully.
Check out the sleep webinar about what I learned studying research on sleep, and implementing it, that completely solved the problem for me.
Joining me is Bob Rasmussen, a sleep wellness expert who has studied this subject for decades, and founded intelliBED in 1998.
On GreenSmoothieGirl.com, we talk primarily about just ONE leg of a three-legged stool of what makes up HEALTH. That's the DIET piece. (When I started eating a 60-80% raw, plant-based diet, my need for sleep immediately decreased by 2+ hours a day! My body was resting at night instead of digesting food.) It's probably the hardest piece, given the realities in North America.
Of course EXERCISE is the second leg. But clearly the third leg is SLEEP, since we do it for 8 hours a day.
Did you know bedding materials can off-gas toxic substances you breathe all night? How important is quantity of sleep versus quality, and how do you wake up rested every day, even if you can't afford 8 hours in bed? Is it even important or necessary, to get 8 hours a night? How is SIDS related to bedding materials? What is "sleep efficiency?" These and many more questions are answered in our sleep webinar.
Most Americans are sleeping on the wrong surface and making simple mistakes out of ignorance which, if fixed, could radically change the quality and quantity of their sleep. I think it's worth 45 minutes of your time to learn about it.
You know I don't tell you about anything that I don't use myself and LOVE. The IntelliBed has so radically changed my sleep that I HATE having to sleep in Marriott and Hyatt beds, when I travel!
Watch our sleep webinar and, in addition to a lot of tips to understand your sleep and improve its quality, you'll learn a way to save a lot of money on a system that will improve your sleep radically for many years.
Until we take this webinar down, we have extended the group buy so you can use the coupon code: greensmoothiegirl at Intellibed.com, to get 10% off everything. This offer is available NOWHERE else.
Advanced Comfort Technologies, Inc. is a Utah based manufacturing and retailing company founded in 1998 committed to becoming the worldwide leader in the sleep wellness revolution. We have been perfecting the science of sleep for over a decade. The resulting product of all our research is the IntelliBED line of mattresses featuring Intelli-Gel® technology. We have stores across Utah as well as in Texas and Canada.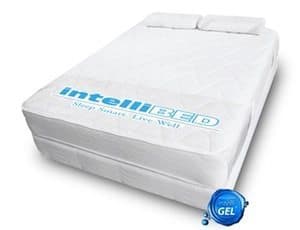 IntelliBED was founded on the idea that it is possible to perfect the science of sleep. Most manufacturers are still making mattresses with the same materials used since 1960. Science has come a long way since 1960 and so we set out to truly understand the science of sleep so that we could create the best mattress modern technology can conceive. We have done extensive research, interviewed doctors and reviewed third party testing in order to design, manufacture and sell this ideal mattress, and it is the IntelliBED. Each IntelliBED is made in the United States and we manufacture our own gel at our plant in Utah.
Products
The IntelliBED line of mattresses includes:
Value
Manufactured to fit any budget
Still maintains the highest quality components
20 year warranty
The original and most popular intelliBED
Regular support. Not too hard, not too soft.
30 year warranty
All the benefits of the original but with a softer, plusher feel.
30 year warranty
Feels just like the regular but with the benefit of reduced partner disturbance
30 year warranty
Spinal Decompression System – Created especially for those with severe back pain or other serious or chronic back problems.
Kids Mattress – A twin size mattress designed to help your child grow properly.
Just Gel, Baby! – Our baby crib mattress made with non-toxic Intelli-Gel is a non-foam, highly pressure relieving mattress with more natural materials.
Intelli-Gel Mattress Topper – Designed to provide more comfort for those with a too firm mattress and helps cure bed sores. Standard and custom sizes available.IntelliBED sells top of the line mattresses but also has other sleep accessories available, including: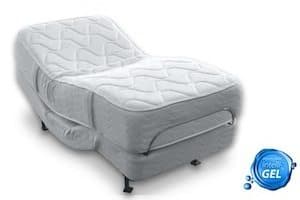 Our Intelli-gel Mattress Toppers have a 10 year warranty, the IntelliBED 20 has a 20 year warranty and our other mattresses are sold as a complete set and have an incredible 30 year warranty.