Product Description
Reviews
Why Buy From Us
How to Get Free Shipping
Return Policy
Ever found a green smoothie in your mailbox? We want to send you 3 of them, FREE!
Grab a free sample pack of GreenSmoothieGirl's 3 new BlendBars -- just pay $4.99 shipping!
*limit one free sample pack per customer
Three yummy BlendBars, full of nutrition, and no kitchen prep! No fillers, no fake stuff, no frankenfoods -- just real deal, whole-food ingredients that let you take the brilliance of green smoothies with you wherever you go.

But here's the question: which Blendbar is best?

Grab this free sample pack with one of each flavor and name your favorite. The competition will be fierce, but we believe in you.
Green Smoothie Blendbar

 

Vs.

Pink Smoothie Blendbar

 

Vs.

Chocolate Dipped Smoothie Blendbar
Who will reign victorious? Which Blendbar takes the top prize as your ultimate fave? Try all three and find out.
Will it be the classic recipe that started it all, the Green Smoothie BlendBar?
Or the Pink Smoothie Blendbar, with its berry-riffic sweetness?
Maybe the dark horse will take the prize -- our Chocolate Dipped Smoothie Blendbar has been getting rave reviews …
Try all three BlendBars and make the call. All you pay is a small shipping charge -- the bars are our gift to you.
We'll even offset the shipping charge by including a 20% off coupon to purchase your winning flavor!
(If you can pick a favorite. If not, get all 3 with your 20% discount!)
We think you'll agree that they taste better and leave you feeling more energized than any other nutrition bar out there.
Meet the Contenders:
Green Smoothie Blendbar
 The classic Green Smoothie Blendbar has all the greens you'd expect in an organic green smoothie (kale, spinach, broccoli), plus the sweet tastes of bananas and dates, with just a dash of sea salt to bring it all together.
Every ingredient is organic and top quality -- you might be in a hurry, but that doesn't mean you have to settle for junk.
Goodies You'll Find In Our Green Smoothie Bar:

Organic Carrot

Organic Spinach

Organic Broccoli Sprout

Organic Kale

Organic Dates

Organic Raisins

Organic Cashews

Organic Rice Protein

Transcendent Joy




Baddies You WON'T Find:

Gluten

Soy

GMO

MSG

Sugar alcohols, or artificial sweeteners

Fillers

Regret
Pink Smoothie Blendbar
Hot Pink Smoothies have been a favorite of the Green Smoothie Girl community for years, so making a BlendBar to match was a no-brainer. The Pink Smoothie BlendBar is made with antioxidant-rich berries and protein-packed cashews.

The result is a sweet, chewy treat that borders on addictive.
Goodies You'll Find In Our Pink Smoothie Bar:

Organic Dates

Organic Cranberries

Organic Goji Berries

Organic Raspberries

Organic Acai

Organic Cashews

Organic Rice Protein

Organic Rice Protein

Beyonce-Level Confidence




Baddies You WON'T Find:

Gluten

Soy

GMO

MSG

Garbage sugars and sugar substitutes

Fillers

Guilt
Chocolate Dipped Smoothie Blendbar
The Chocolate Dipped Smoothie Blendbar gives you all the fruit-and-veggie goodness of organic green smoothies, dipped in chocolate!
We're talking organic greens like kale, broccoli, and spinach, fruits like bananas and raisins, and cashews for that extra punch of protein. The combination makes for a delicious, chewy, chocolaty bar you can take anywhere and enjoy anytime.
Goodies You'll Find In Our Chocolate Dipped Smoothie Bar:

Organic Dark Chocolate

Organic Cocoa Butter

Organic Carrot

Organic Spinach

Organic Broccoli Sprout

Organic Kale

Organic Dates

Organic Rasins

Organic Cashews

Organic Pumpkin Seed Protein

Utter Deliciousness




Baddies You WON'T Find:

Gluten

Soy

GMO

MSG

Sugar, corn syrup, or artificial sweeteners

Fillers

Shame
Just pay $4.99 for shipping, and you'll get the sample pack of 3 full-sized bars of healthy deliciousness, PLUS a coupon for 20% off your purchase of your winning flavor (or all three if it was a tie!)--which will more than make up for your shipping cost!
(Pssst . . . at GSG, any $75 order gets free shipping--so you'll actually come out ahead when you put all three flavors in your cart! Win/Win/Win!)
Our customers have been begging for the convenience of on-the-go bars for years, but none have achieved Green Smoothie Girl's high standards. Until now.
BlendBars are made with the same whole foods you'd put in a green smoothie, with a taste that even kids go crazy for. (Yes, really!)
Try them for yourself and see just how convenient and tasty good nutrition can be.
What People Are Saying About BlendBars
 "As a college student, these bars have been life changing! While at school I don't have the resources to make my own smoothies and am consistently on the go. I like to try to eat healthy but there are very few items on the market that are healthy and fit my lifestyle. Not only are BlendBars healthy but they also taste SO good. My personal favorite is the Green Smoothie -- it's not too sweet and has the bet texture."

- Lizzy L. in Los Angeles, CA
"Loved the chocolate one the best! My husband was able to eat it without it bothering his digestion. We keep trying to find a bar he can eat, it looks like we have finally found It. Thank you for your tireless pursuit to maximize our health."

- Doreen W. in Greenwood Village, CO
"I bought BlendBars because they are practically the only bar out there that doesn't include ingredients I don't want my family to eat. I didn't expect them to be so delicious. My kids are actually packing them in their lunches themselves. Thanks, GSG, for making my dream packable bar, with organic vegetables and superfoods and kid-friendly taste and texture."

- Whit W. in Mission Viejo, CA
"I buy a lot of high quality protein meal replacement bars and was surprised by how good these are. Different than others I have tried and I liked them all. I would recommend these and will be buying some more. Thanks for an excellent product."

- Zera L. in Ellensburg, WA
"I don't have children to check out the bars but I love them and so do my coworkers. There are many times during work we do not have time to eat at regular hours and these bars are great to get us through. I suffer from hypoglycemia and these bars are perfect to give me the boost if I cannot eat a meal. Thank you for your hard work to provide us with healthy alternatives to the store available bars."
- Regina G. in Blythe, CA
"This is quite a delicious snack bar. The chocolate coating is thin and smooth. It doesn't have any strange texture or chalkiness that you tend to find in protein/snack bars. The filling has a natural sweetness and a subtle chewiness. It's not tough or sticky. I loved it!"

- Tracy M. in Cameron, NC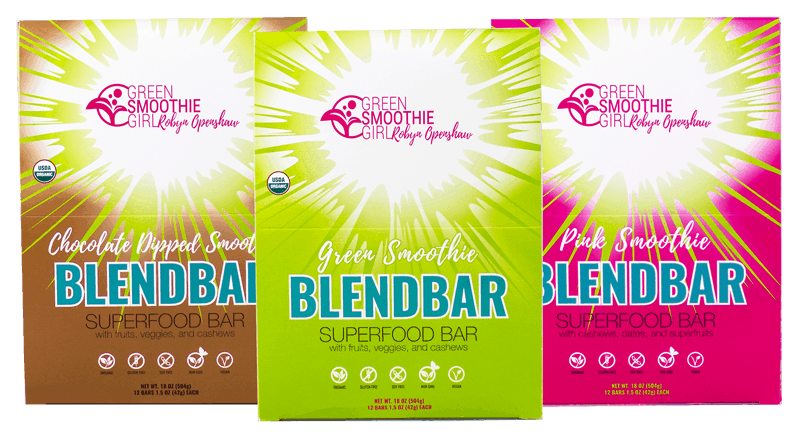 Blendbars from Green Smoothie Girl
Try them all -- pick the winner.
GreenSmoothieGirl is a family business: YOU are our family, and YOU are our business! We want you to be happy with your experience here.

When you shop with us, you get:

Unique Programs, Books, and Products: You won't find Robyn's programs or nutritional products anywhere else! All are designed with YOUR needs in mind, not the latest fad, the hottest ingredient, or the cheapest source. We're constantly reviewing and improving to give you the most high-impact value for your time and money.

Professional and Friendly Customer Support: Our Customer Support staff are graduates of our programs and go the extra mile to make sure you're satisfied and supported in your purchases, comments, and questions.

30 Day Satisfaction Guarantee on all GSG consumable products. Shop with confidence!

Secure Shopping and Fast, Affordable Shipping: Flat $4.99 shipping on all orders, and free shipping on orders over $75! Most orders ship the same or next day.

We look forward to serving you!
United States Orders & Shipping
Free Shipping on orders with physical items totaling over $75 and $4.99 flat rate shipping under $75.
Shipping rates are calculated on order totals after discounts and before taxes on qualifying items shipped to the lower 48 states.
Additional shipping charges will apply to Alaska or Hawaii.
Please allow 7-10 business day for your order to be delivered.
International Orders & Shipping
At this time we can only ship to the US and Canada. We can however sell our digital products and programs internationally. Here is a complete list of available international products.
For the safety of our customers and employees, we will not be accepting any returns at this time. Please contact customer support with any questions and we appreciate your business.
General Return Policy
We accept authorized returns on unopened, unused consumable products sold from our website within 30 days of ship date with a 10% handling fee ($3 minimum, up to $10). Boxed or shrink-wrapped items must be unopened. Items must be in their original condition. Return shipping is the sole responsibility of the customer.
Contact Customer Support at support@greensmoothiegirl.com for a return authorization number
Refund will be credited within ten days of authorized returns being received in original condition
Non-returnable items include:

Books
Digital Products (eBooks, eManuals, digital courses etc.)
Third-Party Products
Detox memberships
12 Steps to Whole Foods memberships
Damaged, used, worn, and non-resalable items
Opened shrink-wrapped items
Opened food items
Group Buy items

Unauthorized returns will not be accepted or refunded
View our full terms and policies.